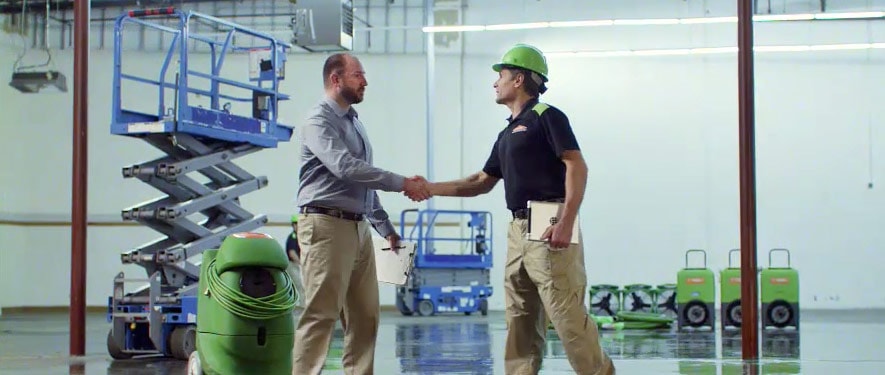 Commercial Services
Cleaning and restoring commercial properties require a unique blend of training, experience, and equipment. SERVPRO of Hazleton/Dallas/Harvey's Lake has the resources and expertise to give you excellent results while minimizing the disruption to your clients. While we are known for our expertise in the cleanup and restoration of smoke, fire and water disasters, as a franchise we also offer our commercial and manufacturing customers direct service like: preventive maintenance programs for your businesses HVAC system, and dryer ducts, post construction cleaning, high ceiling and industrial type of cleaning. If your facility requires that additional umph, or lacks the appropriate resources, SERVPRO of Hazleton/Dallas/Harvey's Lake can help.
SERVPRO of Hazleton/Dallas/Harvey's Lake can help improve your business's indoor air quality for both employees and customers. Pollutants like dust, pet hair and mold spores can travel throughout your business through your air duct system hindering the quality of the air you breath. We employ the use of a portable system of whips and brushes to thoroughly clean and deodorize your ducts. With the same system we also offer commercial dryer duct cleaning which when done regularly greatly reduces the risk of fires.
Many manufacturing facilities require a periodical top-down type of cleaning. We have you covered here with the appropriate resources, equipment and certifications to handle any type of high ceilings or industrial type cleaning. We offer free estimates so call us for all your specialty cleaning needs.
Small Office Buildings
Large Office/High-Rise Office Buildings
Apartment Buildings
Restaurants
Hotel/Motels
Small Retail Stores
Large Retail/Big-Box Stores
High-Rise Residential
Manufacturing & Industrial
Government/Military
Have Questions? Call Today – (570) 714-3828
Commercial Building Restoration Services
SERVPRO of Hazleton / Dallas / Harvey's Lake is available 24 hours a day to restore your Hazleton property and get you back to business. We have the expertise, equipment, and highly trained personnel to handle your commercial water, fire, or mold damage. We can also access the resources of our national network of 2170 Franchises to handle large commercial projects and major storm events. Learn more about our commercial restoration services:
Commercial Building Cleaning Services
Every commercial property experiences wear and tear, including dirt and grime that accumulates from ordinary use. You can count on SERVPRO of Hazleton / Dallas / Harvey's Lake to make your workspace look its very best. Professional cleaning helps to protect your carpet and upholstery and increase its life-span. Learn more about our commercial cleaning services: